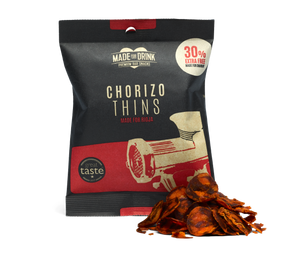 Chorizo Thins (6 x 30g packs)
Chorizo Thins
£

14.99
The most epic range of products we've made, but don't just take our word for it, we've got some pretty special fans out there
"So moreish... a real treat!"
Michel Roux Jr
made
for
drink
award winning snacks designed to compliment your favourite drink
doing
the right
thing
We are not perfect but we do our best. Proudly 100% carbon neutral & working towards being plastic free
made
by us
Our little team is what makes us special. We love what we do and hope this shines through in all our products
critically
acclaimed
"these will change civilisation as we know it." Richard H Turner @ The hawksmoor
are we
healthy?
We don't believe snacks should be for the everyday. they should be a treat, well cooked and incredibly delicious
Product information
back to top
Our chorizo is sourced from a small family producer who belongs to the Consorcio del Chorizo Espanol, founded to protect the quality & origins of authentic Spanish chorizo. They have been making chorizo as a family since the 1950s.
The chorizo is particular to the region of Lugo, in Galicia, and is made up of five natural ingredients: Duroc pork shoulder, Duroc pork belly, salt, Paprika de la Vera and garlic. The chorizo is hung and cured for thirty days and gently smoked over Holm Oak.
The quality and flavour of our chorizo comes from two of the most important ingredients:
Duroc pork: A rare breed of pig that is traditionally farmed in Northern Spain for quality hams and chorizo. It produces a delicate flavoured pork, laced with rich, buttery fat.
Hot Paprika de la Vera: The distinctive flavour of authentic Spanish chorizo comes from the very special Paprika that is produced in the fertile alluvial soils around the Tietar River in La Vera.
We simply slice the Chorizo into rounds and gently roast it until it's crisp and delicious with no greasy residue.
This is what made us famous and I love them. So please enjoy.

Our Chorizo Thins are perfect with a glass of red – Rioja is our recommendation (but any young Spanish red is wonderful) and, in particular, a simple Joven Rioja is spot on – young, fresh and easy going. The salt picks up the fruit flavours in the wine and the fats calm down any tannins. Everything else is a joyful combination.
We also love them with a Manzanilla Sherry, an amber ale or a Bloody Mary. For an alcohol free alternative; a brimming bowl of Seedlip and Premium Tonic is pretty damned delicious.
Of course:
Our Chorizo Thins are simply sliced and slow-roasted chorizo picante, made from: Duroc pork shoulder, Duroc pork belly, hot paprika de la Vera, salt and garlic.
| Typical values per 100g | Chorizo Thins |
| --- | --- |
| ENERGY | 581kcal |
| | 2411kJ |
| FAT | 45.7g |
| of which SATURATES | 19.3g |
| CARBOHYDRATES | 2.8g |
| of which SUGARS | <0.1g |
| PROTEIN | 38.7g |
| SALT | 5.82g |
| Typical values per pack | Chorizo Thins (30g) |
| --- | --- |
| ENERGY | 174kcal |
| | 724kJ |
| FAT | 13.8g |
| of which SATURATES | 5.8g |
| CARBOHYDRATES | 0.8g |
| of which SUGARS | <0.1g |
| PROTEIN | 11.6g |
| SALT | 1.8g |
Our kitchens are kept free of the 14 major allergens as stipulated by the Foods Standards Agency. However, if you are sensitive to a particular ingredient, please make sure you check the ingredients list first.
We offer FREE UK delivery on all orders via Royal Mail Tracked 48, meaning it will generally take 2-3 working days for your order to arrive. Your parcel will be tracked every step of the way and you'll receive updates via text/email so that you can follow its progress.
Proud to be 100% Carbon neutral.
Working towards plastic free.

Liquid error (layout/theme line 109): Could not find asset snippets/preorder-now.liquid