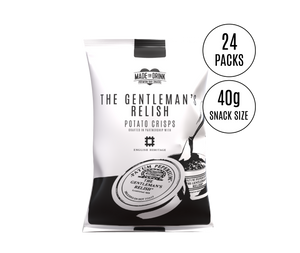 The Gentleman's Relish Crisps (24 x 40g)
FREE UK DELIVERY
£

26.99
The most epic range of products we've made, but don't just take our word for it, we've got some pretty special fans out there
"So moreish... a real treat!"
Michel Roux Jr
made
for
drink
award winning snacks designed to compliment your favourite drink
doing
the right
thing
We are not perfect but we do our best. Proudly 100% carbon neutral & working towards being plastic free
made
by us
Our little team is what makes us special. We love what we do and hope this shines through in all our products
critically
acclaimed
"these will change civilisation as we know it." Richard H Turner @ The hawksmoor
are we
healthy?
We don't believe snacks should be for the everyday. they should be a treat, well cooked and incredibly delicious
Product information
back to top
A 24 x 40g-pack case of our delicious NEW The Gentleman's Relish potato crisps.
We're incredibly proud to partner with English Heritage, a charity that shares our values of quality, authenticity and looking after what's important.

Every pack sold helps English Heritage carry out vital conservation work at over 400 sites and keep the story of England alive for future generations.

Each tells the fascinating stories behind some of our countries most passionate food producers.
100% British potatoes
Picked and cooked on the same day, the potatoes are sliced thin, washed and hand cooked until crisp and golden. A beautiful English crisp-cooked by artisans.
The Gentleman's Relish
The Gentleman's Relish, otherwise known as Patum Peperium (pepper paste) is a cult accompaniment traditionally served on hot toast. Invented by John Osborn in 1828, this heady blend of butter, anchovies, herbs and spices was originally used on and in savouries in Gentlemans' clubs. Today it's enjoyed by people from all walks of like who seek one simple thing – great taste! We've captured this flavour, turned it into a seasoning and combined with our thinly sliced British potato crisps to deliver a snack that packs a real punch.
Enjoy!
A favourite of James Bond, Delia Smith and James Martin to name but a few, The Gentleman's Relish is a truly famous flavour. Sit back and relax over brunch with a packet of these crisps and a Bloody Mary, Black Velvet (a beer cocktail made from a combination of stout and sparkling white wine) or a classic Martini.
English potatoes, oleic sunflower oil, The Gentleman's Relish Seasoning (yeast extract, Mushroom extract powder, salt, rice flour, acidity regulator, spices [black pepper, pimento, clove], onion powder, caramelised sugar powder, natural flavouring, encapsulated malic acid, herbs [bay], paprika extract).
| Typical values | Per 100g | Per 40g serving |
| --- | --- | --- |
| ENERGY | 466 kcal | 186 kcal |
| | 1947 kj | 779 kj |
| FAT | 25.3g | 10.1g |
| of which SATURATES | 2.2g | 0.9g |
| CARBOHYDRATES | 51.6g | 20.7g |
| of which SUGARS | 0.7g | 0.3g |
| PROTEIN | 3.4g | 2.5g |
| SALT | 1.50g | 0.60g |
Our kitchens are kept free of the 14 major allergens as stipulated by the Foods Standards Agency. However, if you are sensitive to a particular ingredient, please make sure you check the ingredients list first.
We offer FREE UK delivery on all orders via Royal Mail Tracked 48, meaning it will generally take 2-3 working days for your order to arrive. Your parcel will be tracked every step of the way and you'll receive updates via text/email so that you can follow its progress.
Proud to be 100% Carbon neutral.
Working towards plastic free.

Liquid error (layout/theme line 109): Could not find asset snippets/preorder-now.liquid