Blog
What's going on behind the scenes at Made for Drink HQ?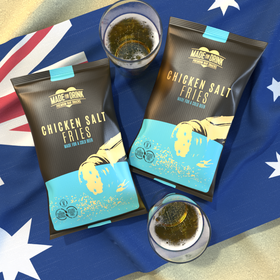 Inspired by the Australian takeaway favourite our Chicken Salt Fries are crispy potato chip sticks with the authentic flavour of Mitani Chicken Salt. Featuring a very addictive umami flavour with hints of garlic, onion and paprika, it's no wonder it's a national obsession.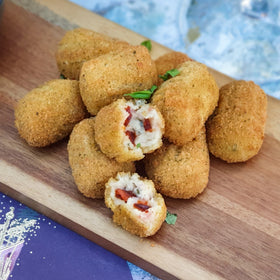 Ingredients 750g potatoes, peeled and cubed 25g butter 2 egg yolks, plus 2 whole eggs 1 bag Chorizo Thins, crumbled 50g strong cheddar, grated 50g plain flour 100g panko breadcrumbs olive oil, for drizzling salt and freshly ground black pepper Method Boil the potatoes in lightly salted water for 15 minutes. Drain and mash.Beat in the butter and 2 egg yolks then add the grated cheese,crumbled Chorizo Thins, season to taste and mix well.Cover and leave until firm and cool enough to handle. Shape the mixture into 14–16 croquettes, weighing around 50g each.Tip: For a melting middle place a cube of cheese in the centre of...